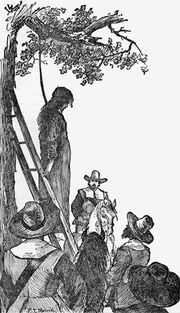 Em encounters the spirit of Ann Hibbins as she walks across the Boston Common in the early morning. 
Personality in Suffer a Witch
Edit
When Ann appears to Em on the Boston Common, she appears to be feeling sorry for herself. Em has know Ann's ghost for hundreds of years, so it's likely that Ann was simply being honest with Em. She tells Em that she can't move on because she's lost the light. The Salem Twenty help Ann move from her haunting in the Boston Common, but not before Ann implies that something terrible is coming.  
Historic Ann Hibbins
Edit
About eighty people were accused of witchcraft in the first round of witch-hunts in New England from 1648-1688. (Wikipedia ) Thirty-two people were hanged as witches in the Boston area, including the twenty hanged in Salem Village in 1692.
Ann Hibbins was married to William Hibbins, a member of the Massachusetts Bay Company. Prior to his death, William Hibbins was one of the associates in the trial of Margaret Jones for witchcraft. Margaret Jones was hanged in 1658.
"Being a man of wealth and high social position, his wife had mingled with the best society of Boston." [1] Later in his life, William Hibbins had lost a great deal of his position and estate which led Ann becoming ill-tempered and quarrelsome. Her neighbors accused her of witchcraft.
Although no physical evidence was found that she was a witch, Ann Hibbins was condemned as a witch by a jury in 1655. However, the magistrates refused to accept the verdict. The public was so incensed that Ann was condemned.
Ann Hibbins was hanged in the Boston Common on June 19, 1656. 
References
Edit
↑ Windsor, Justin. Memorial History of Boston, including Suffolk County, Massachusetts 1630-1880 (Cambridge, MA: John Wilson and Son University Press, 1881) pp. 139