John Willard appears in the background for most of the early chapters of Suffer a Witch. He is there, watching, but not necessarily a part of the core group of witches.
Personality in Suffer a Witch
Edit
John Willard is a Senior Special Agent for the FBI. He works to keep the witches presence a secret to law enf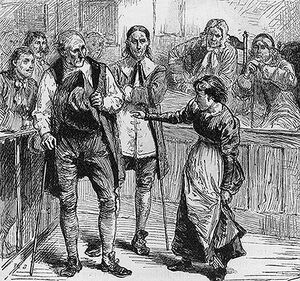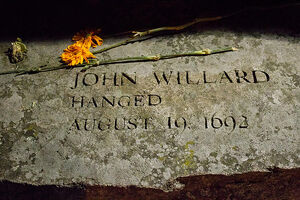 orcement. In the early chapters, John works to maintain a distance from the rest of the witches. 
Historic John Willard
Edit
There are two main stories about John Willard -- in one, he's a constable that turned his back on the trials; in another, he married into a contentious Wilkins family. 
In the first story, John Willard was a deputy constable for Salem Village in March, 1692. He was responsible for bringing a few of his neighbors into the court. 
"Then he turned against his own profession and cried out against the whole witch-hunt.
'Hang them (presumably the afflicted accusors),' he had cried. 'They're all witches.'
"This is no same talk from a constable, and his behavior. the extreme disinclination he now showed to attend any further to his sworn duties, was no better." [1]
In the second story, John Willard had previously helped tend Ann Putnam Jr. after she had fallen ill. By the end of April, he had become her tormentor. She "saw" him whip her sister, Sarah, to death at six months old. (The child died in December, 1689 and John Willard is thought to have lived in Groton, MA at that time.) Further, the child "saw" an apparition of John Wilkins first wife, who said she was murdered by John Willard. (Lydia Wilkins was a cousin of Willard's wife, Margaret, and died in December 1688/9.)[2]
It should be noted that, as we've seen before, the Wilkins were an old, powerful family who helped settle the region. Bray Wilkins purchased 700 acres of "Will Hill" in 1654 in a venture that ultimately failed. He had to sell back part of the land. By 1680, the family lived on a much smaller tract of farm land. (The Wilkins house still stands in Middleton, MA.)[3]
It is possible that both stories are true, and many people combine them. However, there's nothing to back up the claim that he was a deputy constable, and a lot of evidence that his connection to the Wilkins is what got him into trouble.
One thing that is known: John Willard fled Salem Village after his arrest warrant was issued on May 10th. He was found on May 15 and returned to Salem Village for inquisition and trial. John Willard was hanged on August 19, 1692.
References
Edit
↑ Starkey, The Devil in Massachusetts , p. 148
↑ Norton, Mary Beth, In the Devil's Snare (New York: Adolf Knopf 2002) p. 157-158.
↑ "Bray Wilkins Family and the Salem Witch Trials" [Web Article] Roots and Shoots of Mine: collecting my family's history. N.p. (October 27, 2012). <http://rootsandshootsofmine.blogspot.com/2012/10/the-bray-wilkins-family-and-salem-witch.html>