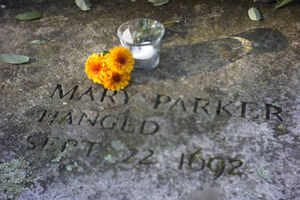 Mary Ayer Parker is one of the more controversial people to be hanged in the Salem Witch Trials. Most people believe she was a misidentified. 
Personality in Suffer a Witch
Edit
Write the first section of your page here.
Historic Mary Ayer Parker
Edit
Mary Ayer Parker is a little bit of an oddity. Most of the books about the Salem Witch crisis note how little is known about her. Moreover, outside of the oft repeated story, there's very little known about her.
However, a little research into her wealthy husband, Nathan Parker, and her wealthy father, John Ayer, and there's a wealth of information about Mary. 
Here's what we know:
She was married to Nathan Parker who was an original settler of Andover and a constable in 1674.
Mary and Nathan had ten children.
Nathan died in 1685 leaving Mary a wealthy widow.
Her father was John Ayer, one of the original settlers of Massachusetts.
John, Mary's oldest son, was a part of the Great Swamp Fight against the Narragansett in King Phillip's War in 1675.
Mary's second son, James, was also in the Andover Militiamen. He was killed in Indian War at Black Point in 1677. [1]
Mary's daughter Sarah was also accused as a witch.
Mary was from Andover, where the majority of people charged with witchcraft lived.
Unlike many of the people charged with witchcraft, Mary was not known to have trouble with any of her neighbors.
This story about Mary is reported in her examination on September 2,1692:
When accused of torturing the accusers, Mary responded: "I know nothing of it." Further, she wondered out loud if they had the correct Mary Parker, as there was one in town who had been in trouble a number of times. However, her step-great-niece, Martha Sprague, confirmed that she was in fact tortured by this Mary Parker. [2] [3]
It's worth noting that there were at least three other Mary Parkers in Andover at that time, including her sister-in-law who was said to be mentally ill.
So who was Mary Ayer Parker?
She was a mother of soldiers, wife to a wealthy man, and daughter of another powerful wealthy man. It's likely that she acquired wealth and land upon her husband's death. We've postulated that this was a reason for the accusation of many of the other women in Andover. 
While much is made about the possibility that Mary was mistaken for another Mary Parker. What if she wasn't? What if they charged the exact Mary Parker they'd wanted to charge?
They would have been consistent in hanging a wealthy widow from a powerful family of original settlers. 
References
Edit
↑ Abbott, Charlotte Helen. Abbott, Charlotte Helen. Early Records of the Parker Family of Andover (Memorial Hall Library: Andover) p.3.
↑

Norton, Mary Beth, ' ' In the Devil's Snare ' ' (New York: Adolf Knopf 2002) p. 160.

↑

Rosenthal, Bernard, ed. ' ' Records of the Salem Witch-Hunt ' ' (New York : Cambridge Press 2014)