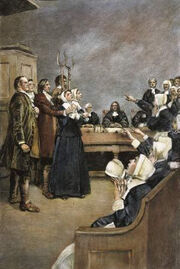 Sarah Wildes is a popular spiritual teacher at the Mystic Divine.
Personality in Suffer a Witch
Edit
Sarah Wildes is a flower child who wears flowing flowery dresses and Birkenstocks. She is an experienced herbalist who uses her witch power to help and heal people. She teaches classes at the Mystic Divine. She has a bevy of middle-aged followers and fans. She is a close, supportive friend of Em's. 
When is she in Suffer a Witch
Edit
Sarah Wildes appears in Chapter One.  She's around the edges of most of the story. 
She has strong, healing powers.
Historic Sarah
Edit
Sarah Averill Wildes was an experienced herbalist who married late (36 years old). In 1649,  she was tried for "too close an intimacy" (often said to be fornication) with Thomas Wordell for which she was sentenced to be whipped. In 1663, she was charged with wearing a red scarf. But Sarah's real crime was that of marrying her husband, John Wildes, within five months of his wife dying, which cause his first wife's family to spread rumors that Sarah practiced witchcraft.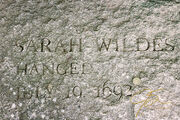 In 1683, John Wildes testified against his former brother-in-law, Lieutenant Gould, in his treason trial. While Lieutenant Gould was found guilty of uttering malicious treasonable and seditious speeches" in August, 1686, he was released with a fine. Upon his return to Ipswitch, a suburb of Salem, Lieutenant Gould's sister, Mary Gould Reddington, began spreading rumors that Sarah Wildes was using witchcraft. John Wildes confronted Mary Gould Reddington and told her he would sue her for slander, which caused Mary Gould Reddington to back off, but laid the groundwork for Sarah Wildes to be charged as a witch.
Sarah Wildes was one of the first people charged as a witch. Two of John Wildes' children were also accused as witches as well. Sarah and John's son, Ephraim Wildes, was the constable of the town they lived in, Topsfield. His super officer was forced to make the arrest. Sarah was taken to Salem Village where she was examined by Justices Hawthorne and Corwin. She was sent to the Boston jail where her son and husband made daily journeys to care for her and make sure she was protected from the worst prison could offer.
At her trial, much of the testimony against her came from John Wildes' first wife's family, the Goulds. She was executed by hanging on July 19, 1692. She was sixty-five years old.
It's highly likely that Sarah Wildes was, in fact, an experienced herbalist, which brought her in close contact with those who were ill and infirmed. In much of the testimony against Sarah at her trial, she was seen at the bedside of sick adults and children as she would have been if she was a herbalist. By all accounts, she had a close loving relationship with her husband, child, and John Wildes nine children with his first wife.